We told Mr Swallow that we wanted to create some top class portraits of Ernest Shackleton, to give our reports that professional, authentic touch.  That meant we had to check our sketching skills were up to scratch.  In this lesson we:
…learned a few techniques to help us control how light or dark our pencil lines are (this is called tone)…
…looked at our friends faces to see which areas of our faces are light and which are dark…
…used our new tonal skills to sketch faces with the light and shady areas in the right places…
…used a print of a skull to help us get our features in the right places and understand how the bits of our faces that stick out are light and the sunken in parts, dark…
…combined all of these skills in our portraits of Shackleton.  Wow!  Eat your heart out Monet.
They are now ready to scan into the writing frames we designed on Word.  These reports are going to look fantastic!!!
Year 2 are going to create an amazing report all about the life of Arctic explorer, Ernest Shackleton.  To do a really good job of their report, we brain-stormed together what skills I need to teach them:
They identified that they would need to improve their knowledge about who he was and what he did.  They also spotted that we need to know what features a report needs; how it should look and what type of writing we need to do.  We want to add a portrait of Shackleton to our report so we want to brush up on our portrait drawing skills too.
We have already started our research and our knowledge about Shackleton has got pretty good. So, today it was time to design a writing frame (so our report actually looks like a report).
We looked at a report layout that Mr Swallow had made so we could identify what steps we needed to take to turn our blank document into a professional looking writing frame.
Once we had identified WHAT we needed to do we had to plan the order of WHEN to do each skill (we didn't want to add our writing and pictures first and then change the size of the paper and mess it all up!!!)
With our plan in place, it was time for Mr Swallow to teach us the skills we needed to learn. We had to:
Make the paper size go from A4 to a3.
Rotate the paper from portrait to landscape.
Add columns.
Add a background texture.
Add text and edit font, size &colour.
Format text background.
Insert pictures…wow!  We are going to be Microsoft Word ninjas!!!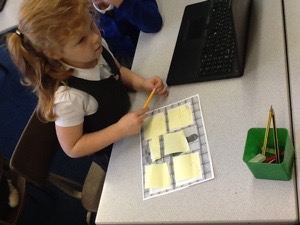 Stay tuned to see the end results…
We are researching about Shackleton so we can write a brilliant report about our Arctic hero. Rather than just write down what we found out we thought it would be fun to make our findings into a game…
Press on the questions to find out the answers.
Press on the questions to find out the answers.
We went onto the field this morning to explore the frozen environment, just to get an idea what the weather is like is the cold places of the world.
It helped us build up our vocabulary…
"The grass is making a crunching sound"
"This stick is frozen"
Take a look at our photos!